ABOUT US
Our kids, like most other kids love their toys cars. Its amazing these days how kids quickly grow up, and you turn and think, 'Did I know this when I was their age. Our drive and passion for cars is a daily ritual. Our kids enjoy the fantasy of cars from the smallest scale cars to attending club track days.

They get to be part of many kids dreams in seeing fast cars go around the track and coming up close and personal with the drivers. Just seeing the look on their faces as the pit garage doors open is breath taking.

Dad, I want a race car bed!

One day my wife and I were searching for car beds for our three kids, Oliver, Elijah and Sienna. Searching the internet, we could not find any car beds that came close to resembling a real car. All we found were your everyday timber and plywood car beds.

We wanted our kids to experience something special! We wanted to see the same look on their face as the look when the pit garage doors open. We persevered for months to find a car bed that was as close to the real thing as possible. After finding a renowned medical plastics manufacturer in Europe we found that they can also make what we were looking for.

The look on Oliver's face after receiving an email of the first concept car was priceless. That began our quest to provide the reality in children's dreams. We love kids. We think back to how we felt as kids and what our wishes and dreams were. Thankfully today, we can pass on our dreams to all the young generation out there.

Our kids sleep much happier these days and for us parents, its bubbles to bed in under 2 minutes. The speed of our kids getting into bed with their new car beds was the reason we chose Fast Asleep as our product brand.

For the kids,

Endree Saade
Fast-Asleep car beds
FAST CAR BEDS MOTORSPORT
Team Fast Car Beds
Car 1: BMW E36 M3 Turbo Driver: Endree Saade
Car 2: BMW E36 M3 Driver: Dori Saade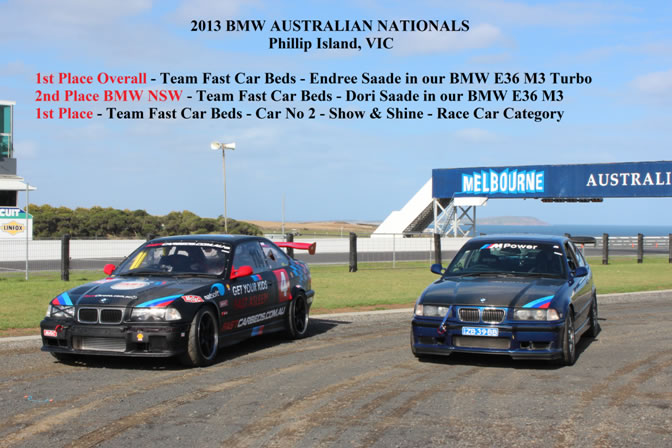 At team Fast Car Beds, we have a serious motorsport team who just love taking it to the track.
Our two race cars
won their race categories
in 2012 in the NSW BMW Club.
Following a successful 2012 campaign, 2013 has seen a great start to the year with Endree taking out the 2013 BMW Nationals at Phillip Island. It was a battle between famous racing driver Peter Fitzgerald in a Supercharged E92 M3 V8 and Endree Saade in his E36 M3 turbo, with Endree coming out on top by 0.7 seconds.
We also finished first in the show and shine, race category group with Dori taking out the honours.
Our No 2 car is probably pound for pound the best BMW car on track. Its big brake upgrade and its robust suspension makes this naturally aspirated BMW an attraction to watch, especially when it leaves most force inducted cars behind. It is undeniably a well set up and balanced race car.

The big power producing BMW M3 Turbo driven by Endree has been a three year project completed in 2012 with still a few nitty gritty modifications to do. Our job was to get the power in the car. A turbo system was the ideal and most reliable way to get an extra 200kw but it came at a heavy cost. It added a fair bit of weight to the car.

Now the main aim was to take out as much weight out of the car as possible. So far we have reduced the weight by about 250kg, which included stripping out all the interior trim, replacing glass windows and doors with poly windows, carbon fibre bonnet and boot and the removal of unused wiring. We even drilled holes in the front bumper reinforcement to reduce front end weight.

Power is not all you need on the track, which is greatly represented by our No 2 car. The straight where all the power is used is only a portion of the track length. Races are won in the turns with cornering speed. Brake, tyre and suspension set up is the backbone of all race cars. We chose the BMW E36 for our race cars as it already has the factory advantage of a well designed and balanced performance car.


Car 1: BMW E36 M3 - Turbo

3.0L Straight Six M3- Powered by Turbo
Polycarbonate windows
Polycarbonate doors
Carbon fibre bonnet and boot
Light weighted
Roll cage
Racing wheels
Brake and calliper upgrade
MOTEC
Adjustable coil over suspension
Sparco race seat
Flared guards


Car 2: BMW E36 M3 - Naturally Aspirated

3.0 L Straight six
Carbon fibre bonnet and boot
Carbon fibre air intake
Light weighted
Porsche callipers and brakes
BBS racing wheels
Adjustable coil over suspension
Sparco race seat
Marine interior